COMIC CON TUNISIA AMV CONTEST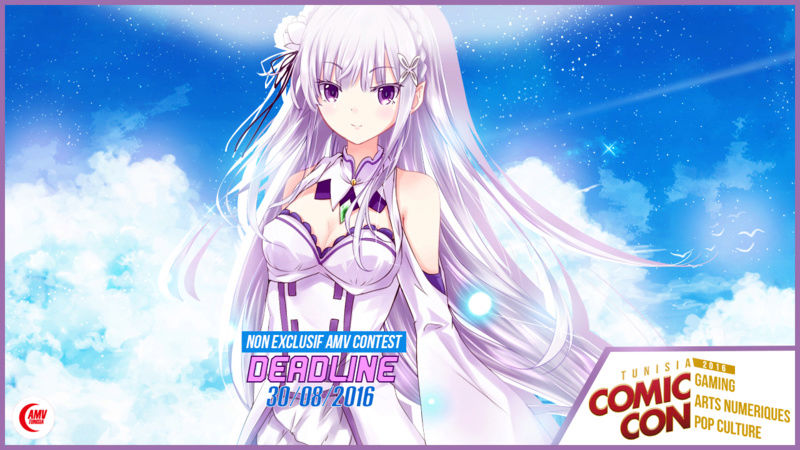 Thanks Draga for the bann
We are so glad to announce to you the AMV Contest of the convention so awaited: Comic Con Tunisia.
It will take place for the first time in 2-3-4th of September but that promises to be one of the biggest convention to ever be held in Tunisia!
AMV Tunisia will be the organiser of the AMV Contest during this convention.
AMV Tunisia is a community of Tunisian AMV editors who gathered together in order to expand the Tunisian AMV community
and help it to open up to the international AMV community, all in the hopes of building a strong community in Tunisia.
DEADLINE:
Your AMV/MMV has to be submitted before
30/08/2016
.
JUDGES:

RULES:

1) Videos must be of reasonable video and audio quality. We suggest that your video resolution be at least 640x480, and your frame rate be 23.976fps or higher.

2) The audio content of all AMV entries must primarily be music

3) Video length must be between 1 minute and 5 minutes.

4) Must contain at least 50% OFFICIAL anime, or Japanese video game footage.

5) No bumpers, credits, watermarks or title screens.

6) Any trailers entered MUST NOT contain proper titles or authorities in their opening green screen.

7) Video formats should be mkv, wmv, mp4, or avi, and audio codecs shoud be ogg, wma, or mp3, any other codecs/types won't be accepted.

8 ) MEPs are accepted.

Note: AMVs are

not exclusive

: You can send an old AMV, but it must have been created in 2016.SENDING YOUR AMV:

To submit your entry you should fill in the form available

here

We hope that you will be many to participate!

If you have any questions, you can ask us at

our Facebook page

too.

* We really apologize for the delay. But unfortunately, the staff responsible for organising the convention only gave us the confirmation avout the AMV contest a few days ago, so we couldn't even announce it when we didn't know what they even wanted us to do exactly for the contest.